We are professionals trained and licensed by NES Health WellNES to provide health services in accordance with established standards as independent representatives.

With your first free consultation we can evaluate your energy level and blockages in each of the life, vitality, circulation, digestive and nervous systems. We will give you all the recommendations to achieve a better level of vitality and health.
You choose from a range of options the best one for your case after receiving the results of the initial assessment and speaking with our experts in order to take conscious actions that will lead you to achieve the healthy wellness you desire.

Professionals linked to new quantum technologies with the objective of serving the Hispanic community in New Jersey and New York to achieve better wellness through quantum nutrition with the support and training of NES Health WellNES and Self-Healing Therapies for Stress, Depression and Taboo Release.
Please contact NES Practitioner: F. Torres at 646-703-9133 before making your purchase or paying for a service.
Francy Torres
NES Practitioner, Specialist in Reiki healing techniques and Quantum Holistic Nutrition.
Luis Navas
NES Practitioner, Quantum Holistic Nutrition.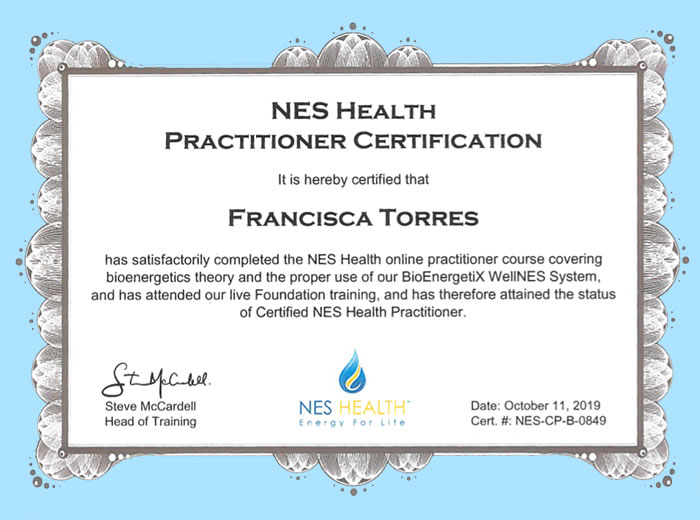 "My pain after three weeks was gone, completely gone."
Wendy Myers
Holistic Detox & Health Expert

Your Health Care is Our Mission
Contact us for a free case evaluation.
(646) 703-9133 Francys Torres
322 48th St. Union City, NJ 07087
(201) 553-2003
10:00 am – 5:00 pm